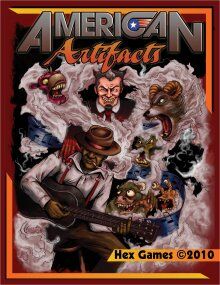 American Artifacts is a role-playing game released by Hex Games, which utilizes the QAGS system.
Setting
[
]
When you think of magical artifacts, you probably think of magic wands, or gold rings, or weapons--King Arthur's sword Excalibur, maybe, or the Ring of the Nibelung. Wands and rings and swords were all well and good for the Old World, but this is America, and a New World demands a new style of artifact. There are a few swords scattered across these fifty states, but you're more likely to find a magic gun, like Elvis's Golden Gun, or an enchanted locomotive, like Lincoln's Funeral Train.
American Artifacts includes entries for 20 magical artifacts suitable for use in a wide variety of games. Each entry includes a description of the artifact, background information, and game mechanics. The artifacts range from the helpful, like the Gygaxian Dice, to the dangerous, like The Rug That Ties the Room Together.
Gameplay
[
]
American Artifacts utilizes a slightly altered version of QAGS Second Edition.
Chapters that Play
[
]
The following chapters are know to play, previously played, or open to playing the game:
External Links
[
]
---
Back To: Ogres Wiki → O.G.R.E.s → RPG Portal → Role-playing Games → List of Games