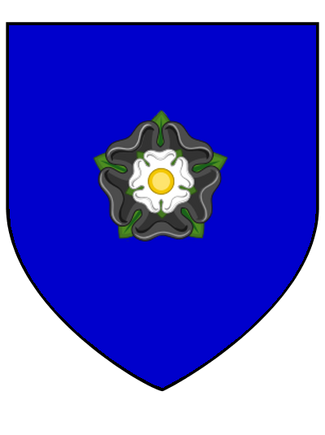 The Freehold of Blüdfrost (pronounced blood frost) is a sub-grouping of the Quilt City Ogres of Paducah, Kentucky for their members who partake in the live action game Amtgard. The name is a reference to the O.G.R.E.s-created homebrew tabletop setting of Valgora, specifically the cold northern country of Blüdfrost.
The chapter is currently a freehold, meaning it has yet to receive sponsorship from a official Amtgard kingdom. Once eligible, the group plans to petition for sponsorship from the principality of Winter's Edge, currently part of the Kingdom of Neverwinter but aiming for status as a kingdom in it's own right. The chapter's heraldic device is azure, a rose sable barbed and seeded Vert representing death, and it's words are simply "By Force."
As a live-action entity, the club is controlled internally by the House of Ogswald, as well as bound by all rules of Amtgard.
Chapter Name
Edit
The purposeful mispronouncing of the letter Ü is a joke, referencing a fictional location in DC Comics that a writer once misused the letter in - not understanding the sound it is supposed to make.
Unique Battlegames
Edit
Land Control
Edit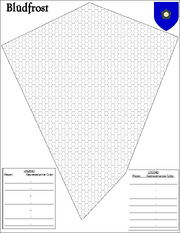 Blüdfrostians partake in a land control game from one session to the next, where players are able to challenge via dueling other players for fictional hexes of land. The Blüdfrost map, which coordinates directly with the shape and size of the park the chapter plays in. The map is "reset" annually, with each Land Control campaign lasting roughly a calendar year. The winner is the player who controls the most or all land by the end of that game's season.
External Links
Edit
---
Back To: Ogres Wiki → Organization of Gamers & Roleplaying Enthusiasts → Games Portal → Amtgard
Back To: Ogres Wiki → Organization of Gamers & Roleplaying Enthusiasts → Chapter → Chapter Portal → Kentucky → Quilt City Ogres
Community content is available under
CC-BY-SA
unless otherwise noted.