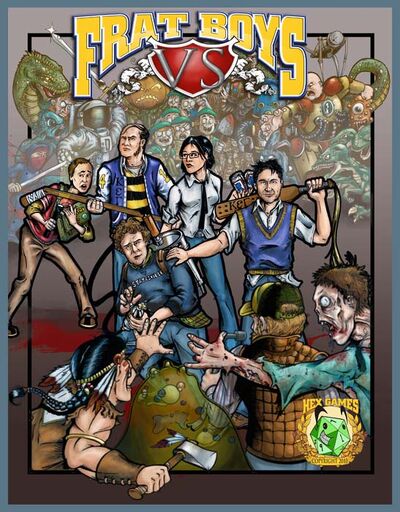 Fratboys Vs is a Hex Games product utilizing the QAGS system that puts in the players into the role of fictional fraternity brothers, pitted against various foes. It is one of the releases in their Vs line.
Official Product Blurb
Edit
It's a typical day at Kappa Epsilon Gamma house: music blaring, beer flowing, and the party starting in half an hour. Suddenly, zombies attack! Or maybe Nazis. Or robots, or dinosaurs, or aliens, or ninjas, or cyborg gorillas, or pirates . . . the details vary. The point is, it's time for some serious ass-kicking.
Fratboys Vs. is an adaptable adventure for use with the QAGS system. Players take on the part of fratboys, and fight a different menace every time you play. Fratboys Vs. includes background and setting information about Kappa Epsilon Gamma, Statesville, and State U.; information on creating characters and some popular fratboy archetypes; an overview of the typical Fratboys Vs. plot outline, along with ideas on adapting Fratboys Vs. to campaign play; examples of specific enemies for the fratboys to fight, including tips for adapting the plot to the villains in questions, ideas for exciting scenes and plot complications, and game information about the villains; and appendices featuring fratboy-related dumb tables and inspirational materials.
Written by

Steve Johnson
Illustrated by

Jeffrey Johnson
Fratboys Vs. is written by QAGS co-creator Steve Johnson and handsomely illustrated by Jeffrey Johnson.
Chapters that Play
Edit
The following chapters are know to play, previously played, or open to playing the game:
External Links
Edit
---
Back To: Ogres Wiki → O.G.R.E.s → RPG Portal → Role-playing Games → List of Games
Community content is available under
CC-BY-SA
unless otherwise noted.