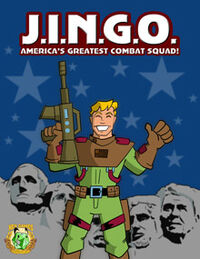 JINGO, officially J.I.N.G.O., is a action-adventure role-playing game released by Hex Games.
Official Product Blurb
Edit
J.I.N.G.O.! The world's greatest heroes, for the world's greatest nation!
It's 1985. After a landslide election, Ronald Reagan has just started his second term, and America feels awfully good about itself. Unfortunately, there's a new threat out there, more dangerous than the USSR, Libya, and Iran combined—M.U.S.K.R.A.T, the Militant Union of Saboteurs, Killers, Renegades, And Terrorists. To combat this threat, Mr. Reagan has created an elite anti-terrorist force, the Justified Intelligence Network of Gifted Operatives. That's right, J.I.N.G.O.! When extraordinary circumstances call for extraordinary operatives, J.I.N.G.O. is there to protect the U. S. of A. from terrorists, communists, or whatever else threatens this great land of ours.
Recreate the thrills of your favorite toy-based cartoons from the 80's with J.I.N.G.O. - America's Greatest Combat Squad! J.I.N.G.O. is designed for use with the QAGS system. It includes background on J.I.N.G.O. and M.U.S.K.R.A.T.; new rules for Specializations, Firepower, and Q Rating; vehicle rules; sample characters, vehicles, Gimmicks, and Weaknesses; 20 adventure ideas; and more!
Written By

Joshua Burnett
Illustrated By

Leighton Connor
Cover Art by

Joshua Burnett
Chapters that Play
Edit
The following chapters are know to play, previously played, or open to playing the game:
External Links
Edit
---
Back To: Ogres Wiki → O.G.R.E.s → RPG Portal → Role-playing Games → List of Games
Community content is available under
CC-BY-SA
unless otherwise noted.