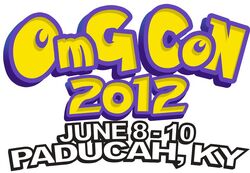 OMGcon (sometimes stylized as OMG!con) is an anime and video gaming convention held usually around early June in Paducah, Kentucky - the same hometown as the Quilt City Ogres and Tilghman Ogres, and within driving distance of Soil Ogres, Saluki City Ogres, Gateway Ogres, Derby City Ogres, Vette City Ogres, Sic City Ogres, Music City Ogres, and Queen City Ogres. As such, numerous Ogres have attended the convention every year. The 2012 convention will be held the weekend of June 8th through the 10th, and is Pokémon themed.
This year, the tabletop room will host four card game tournaments (Pokémon Trading Card Game, Yu-Gi-Oh! Trading Card Game, Magic: The Gathering (both draft and pre-con), a Laser Ponies miniature workshop and birthday party, open gaming with a massive on-site gaming library, and several classic analog games. Previous year information can be found on the previous year archive here.
External links
Edit
---
Back To: Ogres Wiki → Organization of Gamers & Roleplaying Enthusiasts → Ogres Portal → Calendar of Events
Community content is available under
CC-BY-SA
unless otherwise noted.