This is a
featured article
!

OMGcon (sometimes stylized as OMG!con) is an anime and video gaming convention held in June in Paducah, Kentucky - the same hometown as the Quilt City Ogres and Tilghman Ogres, and within driving distance of Soil Ogres, Saluki City Ogres, Gateway Ogres, Derby City Ogres, Vette City Ogres, Sic City Ogres, Music City Ogres, and Queen City Ogres. As such, numerous Ogres have attended the convention and beginning with the 5th year in 2010, members are helping the staff with coordinating the tabletop gaming room.
This years convention was within the Julian M. Carrol Convention Center in Paducah from June 11th to 13th, 2010.
General Information
[
]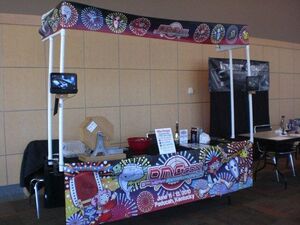 The convention is a three day event with numerous Anime and Gaming related events and guests. Some of these include: Vendors, Artists, Guest Panels, Attendee Panels, Cosplay, Cosplay Contest, Cosplay Chess, Rave, Video Game Rooms, Specific Video Game Tournaments, Tabletop Room & much more!
Tabletop Room
[
]
The Ogres participate mostly within the tabletop room, and will be assisting in providing attendee entertainment for the convention. The final room schedule can be seen below.
Tabletop Room Schedule Overview
[
]
Below is the current schedule for the tabletop room during OMGcon. Open Gaming is available at all times with an on-site Gaming Library. Some time slots have multiple events. Spots for any game fill up on a first come, first serve basis, so arrive early. A sign-up sheet for Saturday's Magic: The Gathering tournament will be available at the in-room information desk, and the entry fee can be paid upon sign-up. The entrance fee is non-refundable.
Friday, June 11th
[
]
Saturday, June 12th
[
]
Sunday, June 13th
[
]
Convention Schedule
[
]
For the schedule for all other areas and activities during the convention, download the .pdf schedule here.
Layout
[
]
Below is the layout of the first floor of the convention for 2010. The tabletop room is located conveniently near the registration tables, restrooms, and the stairs and elevator.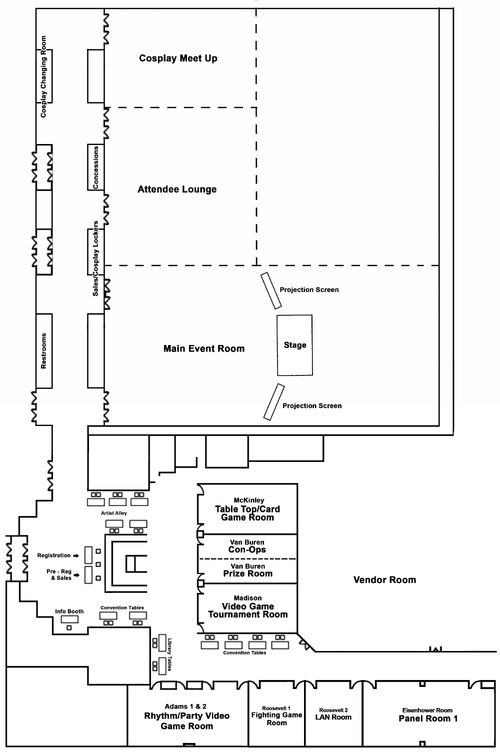 ---
Back To: Ogres Wiki → Organization of Gamers & Roleplaying Enthusiasts → Ogres Portal → Calendar of Events → OMGcon