The Pokéthulhu Adventure Game is a parody of both the Pokémon Junior Adventure Game published by Wizards of the Coast, and of the Call of Cthulhu role-playing game published by Chaosium.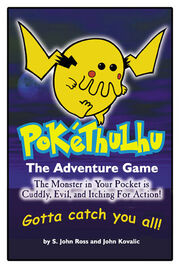 The game is written and designed by S. John Ross and currently published (in its 3rd Edition) as a free game available from Cumberland Games and Diversions. The third edition includes some substantial additions to the game, including a large collection of fan-designed creatures, and an expanded card-based game system dependent on the ability of players to cite obscure trivia about a television show that doesn't actually exist. A small number of fan-authored websites also exist to support the game, often with their own Pokénomicon.
The two prior editions were published by Squishy Brain Games (in 2000) and by Dork Storm Publishing (in 2002). Each edition has featured illustrations by John Kovalic and additional contributions by Philip J. Reed. Additionally, a series of miniatures based on the game have been produced by Steve Jackson Games.
Reviews have been generally positive, with Robin Ashe giving the game high marks for style and substance and Tim Morgan "heartily recommend[ing]" it for its humor, although both felt that more material could have been included.
Chapters that Play
[
]
The following chapters are know to play, previously played, or open to playing the game:
---
Back To: Ogres Wiki → O.G.R.E.s → RPG Portal → Role-playing Games → List of Games