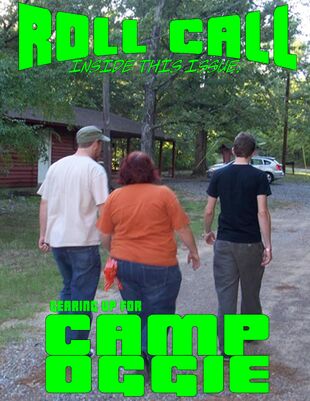 The November issue was released on November 10th, 2010, and was the sixth issue of Volume One of Roll Call.
PDF Version
Edit
Online Version
Edit
Cover Stories
Edit
Camp Oggie
Edit
As in all things in life, Murphy's Law reared its head in the early hours of Camp Oggie. The ranger of the camping location - Boy Scout Camp Roy C. Manchester, had apparently had surgery during the time frame we set up the rental. Even after numerous phone and email conversations, and one on-site visit by members of the Quilt City Ogres, he forgot about us and misplaced our paperwork. It wasn't a major deal, other than delivering a few hours of fright to members of the Friendly City Ogres who arrived first (and had driven the farthest). Some slight car issues with members of the Paducah carpool (not so slight for the member of the Sic City Ogres who had to purchase a new starter) delayed arrival. But, after much delay, we arrived and all was good. The cabin was full, plus a few extra tents.
The weekend saw some Pathfinder, Dungeons & Dragons (one of which unfortunately didn't pick back up Sunday after a cliff hanger), the upcoming Hex Games-release Hobomancer, Munchkin, and the world's longest game of Apples to Apples ever, a rousing game of sort-of-softball, and many more one-off board and card games that can not be recalled. All in all, it was a great time. We look forward to a more streamlined improved Camp Oggie 2.0 next year.
Changes for next year will include a designated smoking section, a separate delegated 21+ section for those bringing alcohol (if allowed by site), but most importantly a Friday evening schedule session to find out what major tabletop games want to be played and to make sure time is made so they are.
Pictures from Camp Oggie (Click to Enlarge)

Edit
Monthly Columns
Edit
Director's Dialog
Edit
No report
SGM's Monologue
Edit
No report
Dir. of Comms. Update
Edit
No report
Treasurer's Report
Edit
No report
Webmaster's World
Edit
No report
Ask a Game Master
Edit
Advocacy and You
Edit
Recent Awards
Edit
Serving as a Dungeon Master for a chapter
Brandon Boatright
Shane Jones
Jordan Colson
David McDonald
Dan Thom
Mac Headrick
For distinguished service
Jordan Colson (Sic City Ogres)
For promoting and advocating gaming
Brandon Boatright (Sic City Ogres)
Jordan Colson (Sic City Ogres)
Recent Promotions
Edit
Jordan Colson
Upcoming Events
Edit
Happy Birthdays
Edit
Happy Anniversaries
Edit
Officer Contact Information
Edit
Vacant
N/A
Gaming Advocacy
Marketing & Promotion

Vacant
N/A
Assistant Editor

Vacant
N/A
---
Back To: OgreLair.org → Organization of Gamers & Roleplaying Enthusiasts → Ogres Portal → Roll Call
Community content is available under
CC-BY-SA
unless otherwise noted.