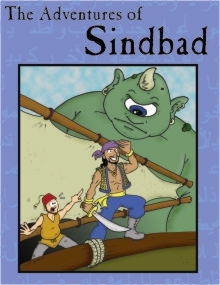 Published by Hex Games, The Adventures of Sindbad is a role-playing game inspired by the legendary Arabic legend of Sindbad and his legendary journey.
Product Blurb
Edit
Are you strong enough to face the giant Roc? Wise enough to meet the mysterious Sea-Born? Foolhardy enough to visit the savage lands of WaqWaq? Enter the world of Arabian myth and legend, as you sail with Sindbad and his crew. This sourcebook gives you everything you need for swashbuckling, seafaring high adventure. In addition to extensive background information, The Adventures of Sindbad provides monsters, magical items, a sample adventure, and a complete magic system.
Adventures of Sindbad utilizes QAGS Second Edition.
Chapters that Play
Edit
The following chapters are know to play, previously played, or open to playing the game:
External Links
Edit
---
Back To: Ogres Wiki → O.G.R.E.s → RPG Portal → Role-playing Games → List of Games
Community content is available under
CC-BY-SA
unless otherwise noted.