Ogre Lair User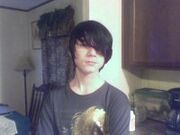 Who is Abrokenknife?
Jeff Dossett
Currently Playing
Not for sure right now i have to re-join my game's'.
Contact me
Edit
abrokenknife@live.com
abrokenknife@gmail.com
abrokenknife@hotmail.com
any of these will work
In real life
Edit
Why "Abrokenknife"?
Abrokenknife was chosen originally as a code name for a Battlefield 2142. I thought hey I should have a cool name that I can go bye cause I need a name people can remember as I am slaughtering them. Afterwards is when I really started getting into tabletop gaming though so I had several more names one of my more common ones now is Kelfryn. Which if you speak drow means legendary warrior or legendary champion. I also use Vuela, Valador, and Zelxz. So generally if I'm playing a FPS I use Abrokenknife and if I'm playing a mmorpg I use one of the other names or if im playing tabletops. That is the story behind my username.
Userboxes
Edit
This user is an Ogre
This user is a proud member of the Organization of Gamers & Roleplaying Enthusiasts, a gaming organization that networks gamers in their respective regions together and promotes positive tabletop gaming. Inquire with this user about joining!
Community content is available under
CC-BY-SA
unless otherwise noted.