Ogres Wiki Administrator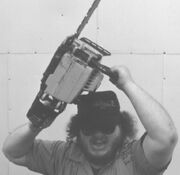 Who is Kingyak?
I'm the co-creator of QAGS and one of the founders of Hex Games, where I currently serve as Operations Director. I'm also the Managing Editor of Hex's online gaming mag,The Death Cookie. My non-Hex-related gaming industry experience includes working for Greenfield Hobby Distrubutors and as the assistant manager of a comic and game store called Red Rock Collectibles.
In addition to the O.G.R.E.S., I am a member of the Game Publishers' Association.
What's your favorite system?
QAGS, but I'm pretty biased. My favorite game system that I didn't help create is probably Atlas Games' Over The Edge system.
What is your favorite class?
In D&D, I usually played a Thief or Bard. For other games, my favorite types of characters are private detectives, criminal types, and occult-themed characters. And talking gorillas. You can't go wrong with talking gorillas.
Contact me
[
]
Please feel free to ask me any questions (or suggest new features) on my User talk page!
To email me, visit [special:EmailUser/Kingyak here] - please try and make the subject as clear as possible!
In real life
[
]
I'm the Tool Crib Manager and I.T. guy for Infiniti Plastic Technologies, a company that makes DVD cases. I also do some freelance writing and web design. You can find out more than you probably want to know about me at my website, www.kingyak.com.
Why "Kingyak"?
I used the names "Hudson Hawk" and "Mr. Spooky" for a long time. One day I tried to sign up for some site and both of those were already taken, so I used "Kingyak," which was the name of a recurring kobold NPC in a fantasy game I ran for several years. I started using the name after that because I've never found a site where it's already in use.
Awards
[
]
Order of Chrétien de Troyes
This member is a recipient of the highest honor within O.G.R.E.s: the prestigious Order of Chrétien de Troyes. The worlds and plots they create have created cherished memories and friendships.
Userboxes
[
]
Hex Games Forum User
This Ogre is also an active member of the Hex Games Community forum, where they go by the username Steve.
This user is an Ogre
This user is a proud member of the Organization of Gamers & Roleplaying Enthusiasts, a gaming organization that networks gamers in their respective regions together and promotes positive tabletop gaming. Inquire with this user about joining!
Ogres Wiki Administrator