Ogre Lair User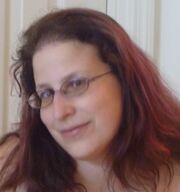 Who is Min?
Min is a self proclaimed Geek Girl and extreme extrovert who has been gaming since middle school. She was an avid member of the SCA and gaming community in Arizona until 2000. After a brief hiatus for college, she found Necronomicon, Stone Hill, and her fellow community of geeks in Florida. Min also enjoys talking about herself in the third person.

Currently Playing
Strategy Board Games. I've recently gone on an expansion kick, beefing up the games I already have: Touch of Evil (Flying Frog), Agricola (Z-Man), Revolution (Steve Jackson), and Power Grid (Rio Grande).

In Development
Organizer for the Hernando County section of the Tampa Bay Ogres Spring Hill Area Gamers (SHAG)
Member of Stone Hill Science Fiction Association
Contact me
Please feel free to ask me any questions (or suggest new features) on my user talk page!
Awards
2011 Necro Badge
This Ogre attended the 2011 Necronomicon convention, and during the event met up with and checked in with members of O.G.R.E.s present at the convention!
Userboxes
This user is an Ogre
This user is a proud member of the Organization of Gamers & Roleplaying Enthusiasts, a gaming organization that networks gamers in their respective regions together and promotes positive tabletop gaming. Inquire with this user about joining!
Community content is available under
CC-BY-SA
unless otherwise noted.