Ogre Lair User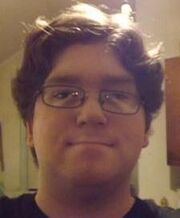 Who is Rred? I am Brandon Boatright, as you see above, Chapter Coordinator of the Sic City Ogres. I like to Dm D&D 3.5, and maybe another day something else. I enjoy gaming of most sorts.
Currently Playing

Pathfinder, D&D 3.5, Munchkins, Ad&d 2.0
In Development

Nothing really.
Contact me
Edit
Please feel free to ask me any questions (or suggest new features) on my User talk page!
To email me, visit here - please try and make the subject as clear as possible!
I've also got msn, just add me. Jimzo_41@hotmail.com and leave me a message saying who you are or you might get declined. I get spam added.
In real life
Edit
Why "Rred"?
I really don't know why Rred. Ive used it for years, im sticking with it. It used to be Rred_Virus, at a point. But I shortened it.
Userboxes
Edit
This user is an Ogre
This user is a proud member of the Organization of Gamers & Roleplaying Enthusiasts, a gaming organization that networks gamers in their respective regions together and promotes positive tabletop gaming. Inquire with this user about joining!
Community content is available under
CC-BY-SA
unless otherwise noted.