Ogres Wiki Contributor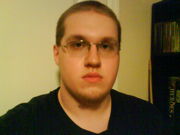 Who is Venom12?
The Name is Tony and I have been gaming for 18 years. Role-playing games are my life and I enjoy them to no end. I game every Wednesday and friday.
What's your favorite system?
Pathfinder Roleplaying game followed by Dark Heresy.
What is your favorite class?
In D&D it is wizard or fighter. With World of Darkness got to go with being a Werewolf, and Dark Heresy got to love the cleric or scum.
Contact me
[
]
Please feel free to ask me any questions (or suggest new features) on my User talk page!
In real life
[
]
I have grown up in the Maury County area of Middle Tennessee and I have made a great life here. It seems that I have brought back Role-Playing to this neck of the woods. When I first got the 3rd edition Dungeons & Dragons books, no one around here played only heard of it. So I got my friends playing and anyone I met that had an interest in seeing it played. I play in 2 games a week, one on wednesdays and one on friday nights. We play at our local game shop, MASTERWORK GAMES. And I am working on moving the O.G.R.E. name into other counties and even up into Nashville. I one day hope that I can do something for gaming that I will be remembered for even if I never get rich or really successful. I just want to see gaming return to its former glory and burn even brighter in the future.
Why "Venom12"?
I have been using the net handle Venom12 since I was 17; simply because I love it.
Userboxes
[
]
This user is an Ogre
This user is a proud member of the Organization of Gamers & Roleplaying Enthusiasts, a gaming organization that networks gamers in their respective regions together and promotes positive tabletop gaming. Inquire with this user about joining!