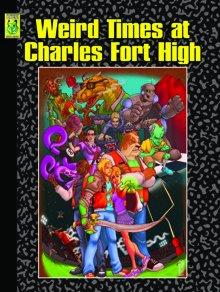 Weird Times at Charles Fort High is a role-playing game released by Hex Games for use with their QAGS system.
Charles Fort High is a lot like your typical All-American high school in your typical All-American town. It's filled with jocks, geeks, and stoners. There are cheerleaders, an AV club, an FFA chapter, and plenty of outcasts, misfits, and aliens. The difference is that at most schools, the homecoming queen can't levitate a truck with her mind and the aliens were usually born on this planet. Fort High is an exceptional school for exceptional individuals, where superhumans, aliens, robots, mad scientists, and more go to class, join clubs, play sports, and work ceaselessly to get laid.
Weird Times at Charles Fort High gives you everything you need to create your own high school adventures, including classes, cliques, and slang. Sign up to build robots in Misunderstood Alternate Dynamic (M.A.D.) Science or learn spellcasting in the Esoteric Studies Program. Play Hyperball, the school's most popular sport. Skip gym class and sneak off to the Zeppelin hanger to make out with your boyfriend.
Game Sourcebook
Edit
Weird Times at Charles Fort High includes rules for character creation, including backgrounds for Atlanteans, Changelings, Ferals, Frog People, Martians, Venusians, and Werewolves. There are also montage rules for the big game, and weird powers rules that include spell-casting and mad science. There's even a sample adventure, "Christmas at Ground Zero." It has everything you need to experience high school again, only from a slightly weirder point of view.
WT@CFH utilizes a slightly altered version of QAGS Second Edition.
Chapters that Play
Edit
The following chapters are know to play, previously played, or open to playing the game:
External Links
Edit
---
Back To: Ogres Wiki → O.G.R.E.s → RPG Portal → Role-playing Games → List of Games
Community content is available under
CC-BY-SA
unless otherwise noted.